The outer circle of the logo design comes from the famous Vietnamese Dong Son bronze drums depicting the legendary Lac birds. This heritage frames the educational exchange experiences of Vietnamese in the global community. In the center is the ACLS logo of five open books representing the exchange of knowledge, innovation, and culture. When the books join together, they form the star of excellence.

CEEVN's counterpart in Vietnam is the Vietnam Academy of Social Sciences which oversees twenty-seven research institutes.


CEEVN Philadelphia:
816 South 48th Street
Philadelphia, PA 19143
USA
Tel: 215-727-9819
Fax: 215-727-5798
edex@ceevn.org

CEEVN Hanoi:
61 Phan Chu Trinh
Hoan Kiem District
Hanoi, Vietnam
Tel: (84-4) 3723-6825, 3722-4872
Fax: (84-4) 3723-6827
edex@ceevn.org
Center for Educational Exchange with Vietnam (CEEVN)
a subsidiary of the
American Council of Learned Societies


News
ACLS-CEEVN and Vietnamese Academy of Social Sciences sign new MOU for Vietnam Programs through 2018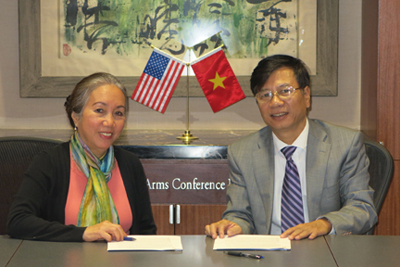 Dr. Nguyen Giang Hai , Director of the Department of International Cooperation of the Vietnamese Academy of Social Sciences and Minh Kauffman, Director of the ACLS Center for Educational Exchange with Vietnam sign a new MOU of partnership between the two organizations.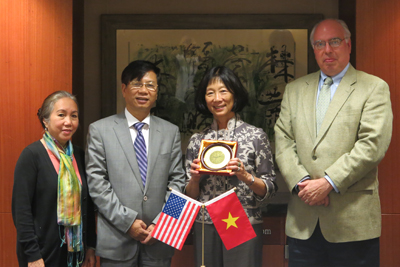 ACLS President Pauline Yu, ACLS Vice President Steven Wheatley and Minh Kauffman welcome Dr. Hai to the ACLS offices in New York.
On October 2, 2013, Dr. Nguyen Giang Hai, Director of the Department of International Cooperation of the Vietnamese Academy of Social Sciences (VASS), and Minh Kauffman, Director of the ACLS Center for Educational Exchange with Vietnam (CEEVN) met at the ACLS offices in New York to sign a new Memorandum of Understanding (MOU) between the two partner organizations. The new MOU, effective for a period of five years starting January 1, 2014, builds upon and strengthens further the already 20-year partnership between ACLS-CEEVN and VASS. The agreement also puts in place the necessary framework for VASS's essential support and guidance for ACLS-CEEVN's programs in Vietnam through 2018.
ACLS Vice President Steven Wheatley emphasized the significance of the MOU, saying, "The partnership of ACLS-CEEVN and VASS reflects our mutual conviction that knowledge is borderless and scholarship must be, as well. ACLS is honored by this partnership and looks forward to the new work it will enable."
The roster of ACLS-CEEVN's planned programs for 2014 and beyond is far-reaching, and includes both existing programs and new initiatives that seek to further ACLS-CEEVN's mission of facilitating academic exchanges and thematic networking of former ACLS-CEEVN sponsored fellows, as well as providing access to professional enhancement opportunities for members of disadvantaged communities and individuals in Vietnam. Among these programs are:
Diversity Enhancement Fellowships (DEF)
Folk Art and Culture Fund which makes small grants to community projects where alumni are working to preserve intangible folk arts and cultural traditions of Vietnam that are otherwise in danger of disappearing
Support for conferences, study missions, professional exchange and joint academic research
Training in Regional Languages for researchers
Social Work Training and Assets Based Community Development (ABCD) workshops
Further information on these programs will be available on ACLS-CEEVN's redesigned website in early 2014.
ACLS-CEEVN began direct work in Vietnam in 1992 as an integral part of the Vietnam Fulbright Exchange Program administered by ACLS from 1992-2000. The recently-concluded Ford Foundation International Fellowships Program (IFP) has been one of its notable activities for the past twelve years. In addition to these initiatives, since 1993, CEEVN has administered over 60 grants for Ford Foundation Vietnam programs including CEEVN fellowship programs, senior delegations, conference/roundtables, language training, and special projects.

Mission
Since 1988, CEEVN has assisted Vietnamese institutions and individuals obtain access to educational opportunities throughout the world. In this work, CEEVN is especially concerned to strengthen linkages between Vietnamese institutions and the international academy and to work with those institutions to provide disadvantaged individuals and communities with opportunities for learning and cultural expression.

Program Activities
• Manage fellowship programs funded by the Ford Foundation Hanoi Office for graduate study in the following disciplines:
• Agricultural Economics
• Anthropology & Sociology
• Medical Sociology, Health Economics, & Medical Anthropology
• International Relations
• Film Production
• Philosophy
• Sexuality & Reproductive Health

• Provide Fellowships in Regional Languages Study for Vietnamese to study the languages of its neighboring countries to increase regional cooperation and international relations.

• Extend access to educational exchange opportunities for individuals of disadvantaged and marginalized communities through CEEVN's Diversity Enhancement Fund (DEF). The DEF provides support for short training courses, professional development activities, and masters degree study.

• Support local artists and communities to preserve Vietnam's traditional folk arts and culture through CEEVN's Folk Arts & Culture Fund.

• Serve as Vietnam Partner for the Asian Scholarship Foundation (ASF) which enables Asian scholars to conduct advanced research in the countries of South and Southeast Asia, and the People's Republic of China.

History
CEEVN was formally created under the auspices of the Mennonite Central Committee in 1990 in Bangkok, Thailand, although its work had begun informally during 1988. The initial purpose of the Center was to assist Vietnam in gaining access to information and to participate in professional and academic exchanges with countries in Southeast Asia.

CEEVN's role during its first years was crucial because the US economic trade embargo on Viet Nam, which began in 1975, was not lifted until 1994. In the same year, CEEVN's administrative office moved from Bangkok to Hanoi and Philadelphia, and CEEVN became a subsidiary of the American Council of Learned Societies (ACLS).

CEEVN was an integral part of the Vietnam Fulbright Exchange Program administered by ACLS from 1992-2000. During this period CEEVN and the Harvard Institute of International Development (HIID) introduced the competition by merit concept and conducted nation-wide open recruitment. More than 200 Vietnamese professionals completed graduate study with Fulbright scholarships during this period.

From 2001-2013, CEEVN administered the Ford Foundation International Fellowships Program (IFP) for Vietnam. The global IFP, launched in 22 countries, provided opportunities for advanced study to exceptional individuals who would use this education to become leaders in their respective fields, furthering development in their own countries and greater economic and social justice worldwide. For IFP Vietnam, CEEVN actively recruited candidates from social groups and communities that lack systematic access to higher education, and selected 270 to become IFP Fellows. Alumni of the IFP program are very active in their local communities and in Vietnam as a whole. You can read more about their activities at www.ifpvnalumni.org.