The outer circle of the logo design comes from the famous Vietnamese Dong Son bronze drums depicting the legendary Lac birds. This heritage frames the educational exchange experiences of Vietnamese in the global community. In the center is the ACLS logo of five open books representing the exchange of knowledge, innovation, and culture. When the books join together, they form the star of excellence.

CEEVN's counterpart in Vietnam is the Vietnam Academy of Social Sciences which oversees twenty-seven research institutes.


CEEVN Philadelphia:
4631 Pine Street
Unit E305
Philadelphia, PA 19143
USA
Tel: 215-727-9819
edex@ceevn.org

CEEVN Hanoi:
61 Phan Chu Trinh
Hoan Kiem District
Hanoi, Vietnam
Tel: (84-4) 3723-6825
Fax: (84-4) 3723-6827
edex@ceevn.org
Center for Educational Exchange with Vietnam (CEEVN)
a subsidiary of the
American Council of Learned Societies


News
ACLS-CEEVN Provides Support for International Underwater Archaeology Symposium in Vietnam
The following is a summary of an article that originally appeared in Vietnam News (The National English Language Daily) on October 16. The full text of the article in English can be viewed at http://vietnamnews.vn/life-style/261473/vn-needs-young-underwater-archaeologists.html.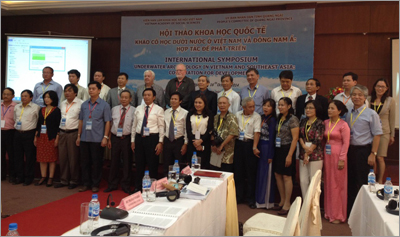 Researchers from seventeen countries attend the first International Underwater Archaeology symposium held in Vietnam on October 15, 2014. [Photo credit: Nguyen Xuan Huong, CEEVN Hanoi].
With ACLS-CEEVN support, the Vietnam Academy of Social Sciences (VASS), in cooperation with the Quang Ngai Provincial People's Committee, organized the first international symposium in Vietnam on underwater archaeology. Held on October 14-16, 2014 in Quang Ngai City, the event, entitled "Underwater Archaeology in Vietnam and Southeast Asia: Cooperation for Development," brought together 170 experts in the field from 17 countries to discuss the need to cultivate the young field in Vietnam as a means of identifying and preserving sites of historical significance along Vietnam's coastline. Researchers participating in the conference—including VASS President Nguyen Xuan Thang and Nguyen Giang Hai, head of Vietnam's Institute for Archaeology—undertook field visits to two such sites nearby, Ly Son Island and the Binh Chau coastal commune, the latter of which is said to contain more than half a dozen shipwrecks dating from the tenth to eighteenth centuries. Artifacts from these shipwrecks are under threat from local residents, who have stolen and sold valuable items for profit, a practice which, according to conference participants, will likely continue unless Vietnam trains researchers in this emerging field, and works to designate such sites as national and world heritage sites.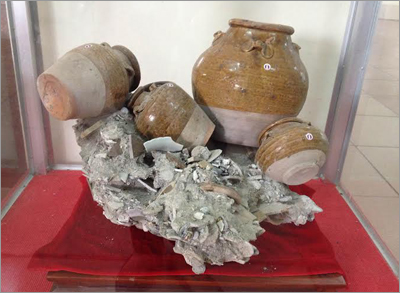 A collection of 13th-century pottery and ceramics found in Binh Chau coastline is among 500 items recovered from underwater archeological excavations on display at an exhibition that opened at Quang Ngai City museum on October 13. [Photo credit: Nguyen Xuan Huong, CEEVN Hanoi]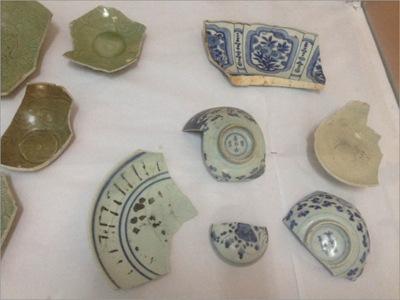 An assortment of 13th-century commercial ceramic pieces from a shipwreck found in Vietnam Central coastal waters on display at Quang Ngai City museum. [Photo credit: Nguyen Xuan Huong, CEEVN Hanoi]
Further reading on underwater archaeology:

The Vietnam Maritime Archaeology Project Center: http://www.themua.org/vietnam/

On VietnamNet (posted October 16, 2014): http://english.vietnamnet.vn/fms/art-entertainment/114277/quang-ngai-exhibits-500-underwater-antiques.html

The Conversation (posted November 7, 2012): http://theconversation.com/first-wrecked-now-pillaged-vietnams-underwater-treasure-10219/